Day One
After my boss successfully ruined this years spring bank holiday by making me work on Monday, I finally find the time to drop down a few lines about my short-term vacation in London.
I had a few days left over from last years vacation (my boss really loves it, when I'm at the office), just enough for a short trip to London. First of all: Hotels in London are way too expensive!
I put up in Fulham, near Putney Bridge, which was a cool place to start, or would have been, if the District Line hadn't been suspended for the weekend.
The weather was fantasic, so I thought I'd take a trip to Brighton on my first day. OK, you might say, she can have that at home, and you're probably right. To be honest, I think the beaches in the Swansea Bay area are prettier, but this being Brighton, it has it's very own feel.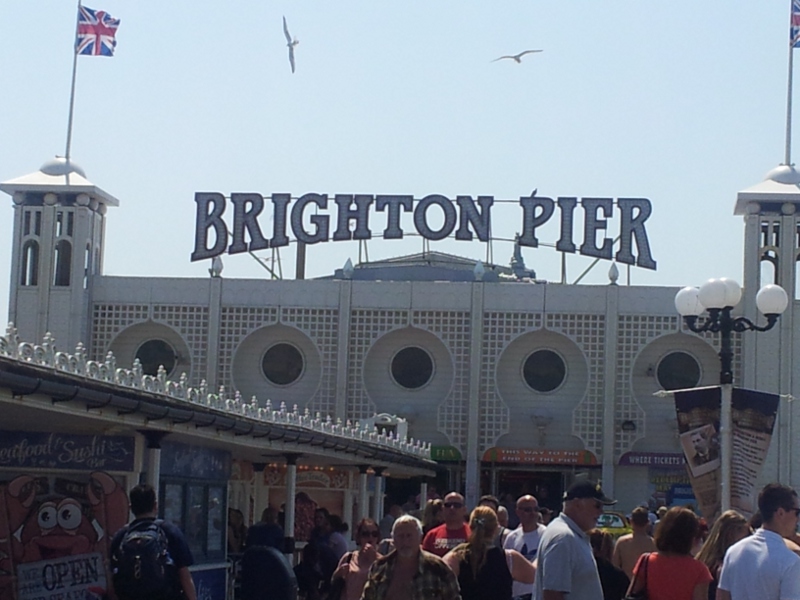 Also I wanted to visit Sea Life Aquarium. I never had the chance to visit it before, mostly because most people I go to Brighton with are not intetested in fish and Victorian architecture. So, being on my own, I thought I'd take a chance.
After watching many exotic fish and coming face to face with the oldest inhabitant of the aquarium, Jersey the loggerhead turtle, I took the behind the scenes tour, where a guide shows you all the technical stuff that's needed to run the place. Probably boring, if you never owned an aquarium at home, but hey I kept fish for a long time.
Plus, the tour was kind of a private tour, because I was the only visitor to book it. So I could get deeper into the technical details of the facilities and ask question on the seahorse breeding program they run there. The guide, a guy named Stu, was very patient with me, and also: Really a nice guy.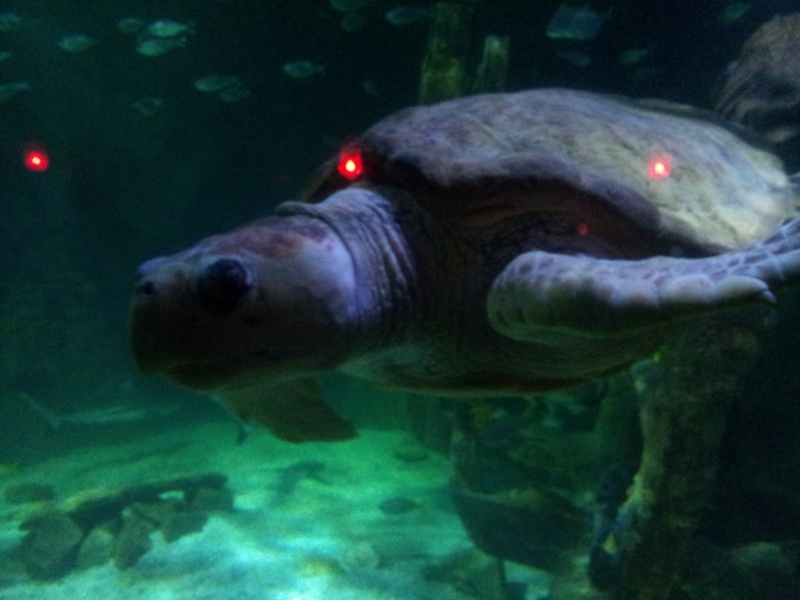 This is me: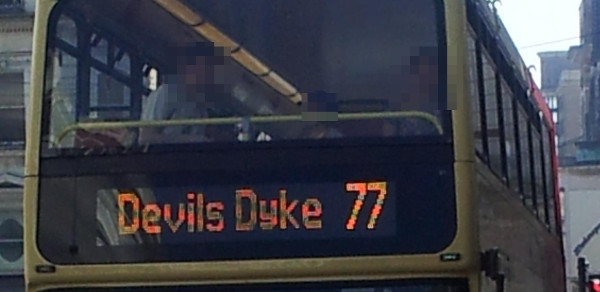 Whereever this bus goes, you will certainly not find David Sylvester there.
After I got back to London, I went up to Islington to have a drink in my favourite London pub, the Coronet, on Holloway Road. If you don't know it, check it out! It's in an old cinema and completly in art-deco-style. They kept all the open spaces and the gallery to keep the theatre like atmosphere.
That day, however, coming to Islington was not a good idea: Being completely oblivious to sports, I didn't have the foggiest idea, that Sunday was the FA-Cup finale; and Arsenal won.
You can imagine that it is not the best idea to walk in to a pub full of drunk football fans as a woman, I didn't even make it to the bar, without indecent comments. Really guys, maybe a girl who walks into a bar alone just wants to have a drink, and is not on the lookout to get laid!
So I fled there and ended up at the movies, watching Godzilla.
Day Two
Another day full of sunshine, so what can you do? I decided to go for Crystal Palace, mainly because I haven't been there yet. It's one of London's most appealing parks.
Built in 1851 for the Great Exhibition the Crystal Palace was originally build in Hyde Park and later moved to the area where the Crystal Palace Park is located today. The palace itself was destroyed in a fire in 1936, but the park remains. Most famous of course are the Crystal Palace Dinosaurs, a series of dinosaur sculptures created by Benjamin Waterhouse Hawkins in 1854. The sculptures are life-sized and beautifully accurate.
Of course they do not really resemble dinosaurs. The Iguanodon sculpture is famous for having its thumb on its nose for example. But hey, when Jurassic Park was filmed, no one knew that some of the dinosaurs pictured there, actually were feathered.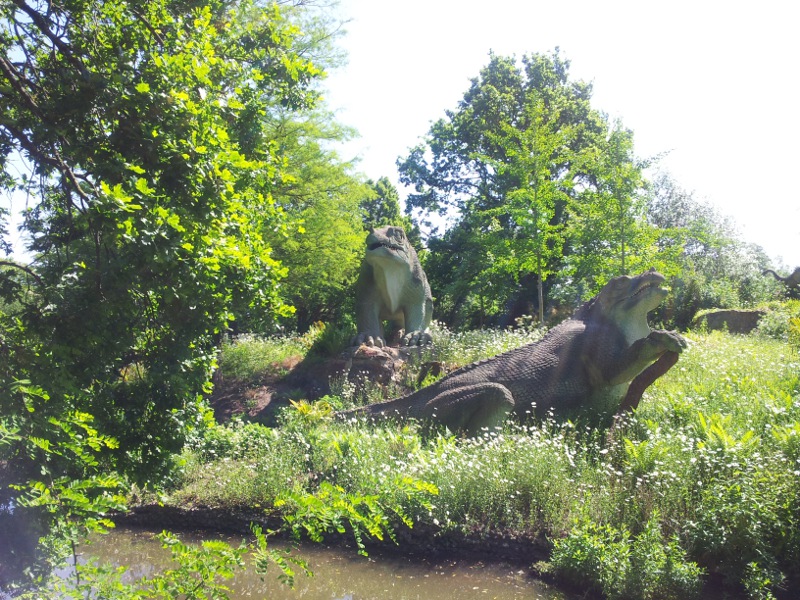 The rest of the day was occupied by an exessive shopping spree, the details of which I will not post here. But it included clothing, comic books and DVDs.
Day Three
The weather was a lot more like you would expect from London, so it was the perfect day to visit my favourite place in London: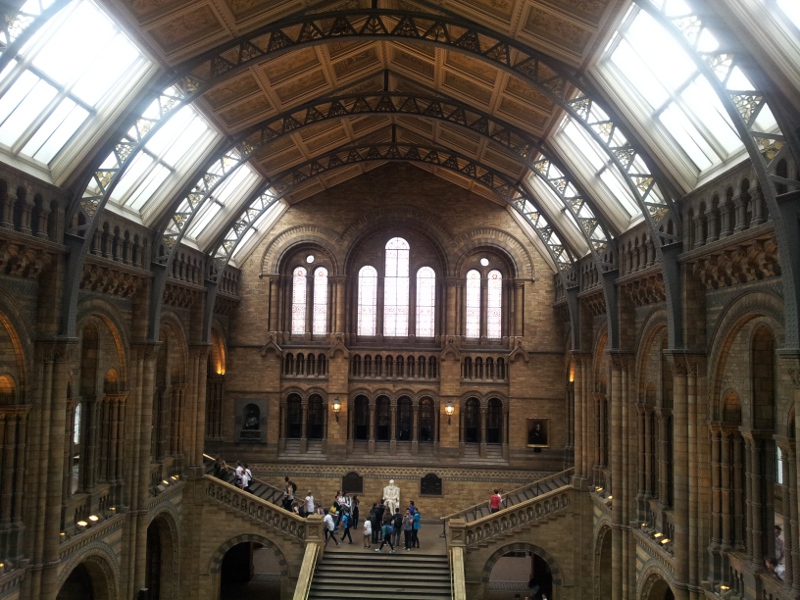 Yes, it's the Natural History Museum. In my opinion, the best Museum in the world. This place would be worth a visit, even if it were entirely empty. The ornated terracotta facade is one of the most beautiful works of architekt Alfred Waterhouse. If you have some time (and it doesn't rain too hard), take a closer look at the building from the outside, before entering. It's worth it.
The whole building was designed as sort of a cathedral to science, and it competing with the most opulent churches is not at all coincidental.
And that's only the building. I had a chance to take a guided tour through the wet collection, which is the collection of specimen, which are carefully preserved in industrial alcohol. Sadly, you're not allowed to take pictures in there. They've got stacks upon stacks of specimen there, serval million! The whole collection of the Museum (not only the wet collection), is some 80 million exhibits strong, and one of the largest collections in the world. And only a small fraction of them is on display.
Not few of the specimen have been collected and labled by Charles Darwin himself, and you can find a lot of glasses that are carefully labled in his own handwriting. The NHM is also one of the best places to discover new species of animals and plants, because of the vast amount of specimens that are still uncatalogued. In the vaults of the museum, you might find cases that came home from an expedition in the 1900s, and have not yet been studied.
So, the museum is more a research facility than a public museum, but the exhibitions still play a vital role in running the place, and communicating science to the public. It's an inspiring place, the world needs a lot more like it.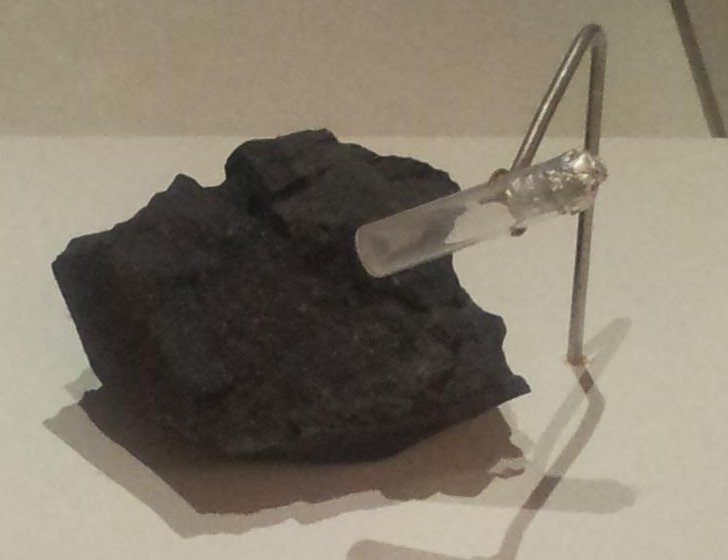 I especially fell in love with this exhibit. It is labled Stardust and the description explains that it is for sure the oldest thing you will ever see. The dust in the glass tube is made up of microscopic diamonds, that have formed in the remnants of an ancient star, that has gone supernova. So these tiny little diamonds are much, much oder than the earth, or even the sun.
Since I was there on my own for the first time, so no one was there to nag me about how her feet hurt after two hours, I stayed as long as I could. When the museum closed, i turned to the center of London, just to find that it was my lucky day: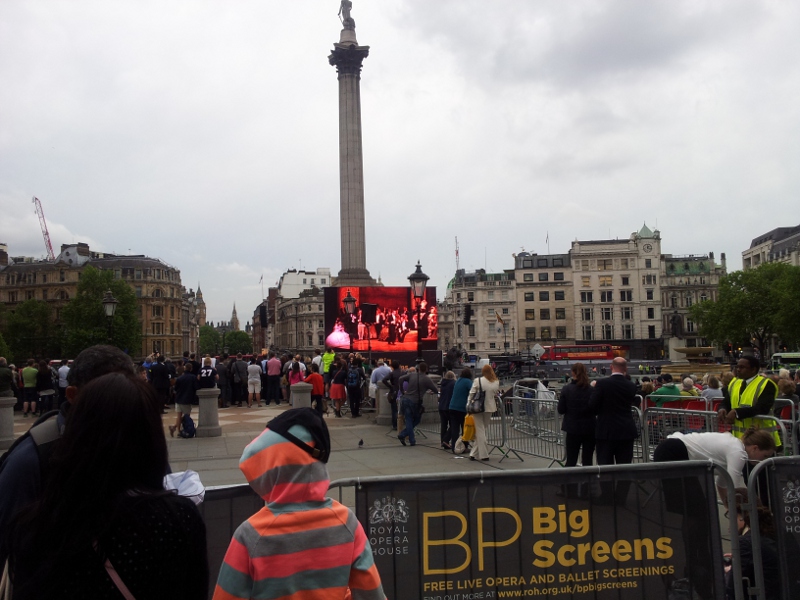 There was a big screen on Trafalgar Square, and they were broadcasting Verdi's La Traviata live from the Royal Opera House. You could just get a seat and watch. It was free.
I really want something like this here at home!
Day Four
Well, the last day was only half a day, because I had to catch a train, but I went into the Science Museum. It's a little underrated compared to the other big museums around Exhibition Road, but it's worth seeing. They've got loads of steam engines, aircraft, cars and even some old computers. Oh, and rockets and the original command module from Apollo 10!
In the entrance hall, you find a big steam engine, that is still in working order. And, every couple of days, they spin it up! Again, lucky me.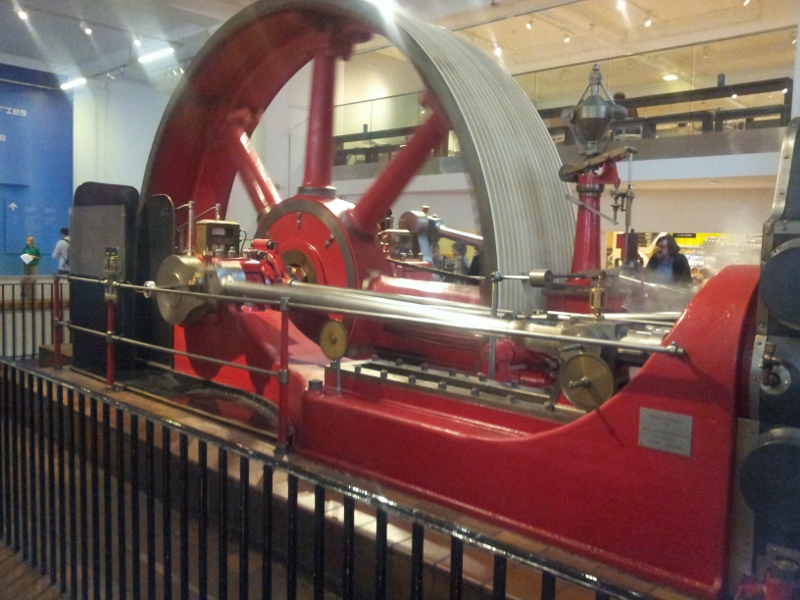 OK, I could have stayed longer, but I needed to get home. Need more holidays!